Remember, a Blue Wave requires Blue Work!!!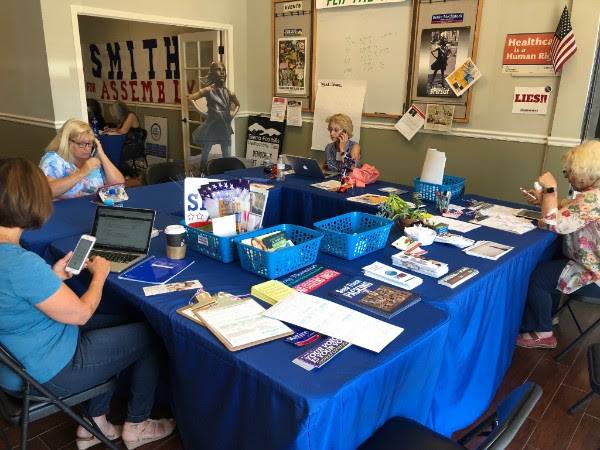 September 23, 2018
Filed under News
Hang on for a minute...we're trying to find some more stories you might like.
We knew last year that the odds of flipping CA 4 were long.  Now momentum is gathering on the flip side.  Step up and be part of it!
Between now and the election, there are many opportunities to talk with Democratic and independent voters to motivate them to Get Out to Vote (GOTV) and reclaim our country.
Do you consider yourself just as important in this extraordinary citizen uprising?  Great!  Opportunities abound, from door-to-door canvassing, phone calling, distributing door hangers, helping prepare campaign materials, to using your writing and technical skills, and organizing special events.  These are all opportunities ready for you to get our country back on track.
Want to flip CA 4 from Red to Blue?… here's what you can do now:
1)  Go to the El Dorado County Democratic Party website's "Events" calendar  https://edcdems.org/events/ . Find a GOTV activity or event that fits your schedule, sign-up, or just put it on your personal calendar and show up.  Keep checking back to both the "Events" tab and the homepage at  https://edcdems.org/   Take a look.  Get involved.  Become an active partner in getting our country back on track. 
  
2) Got a social media profile?  Clip, email and/or post on your personal Facebook, Twitter, or other social media, information about these GOTV activities.  At the bottom of this page, click on the EDC Democrats Facebook and Twitter pages.  Share, share, share the news with like-minded friends and family. Make a group pact and encourage them to become part of this extraordinary effort. Start a chain reaction and be part of making this change happen.
3) If you don't have time for volunteering and still want to help make this change… Make a donation. All donations stay locally, in El Dorado County.  Click on the Donate button below.
We have only 45 days to the Nov. 6 election (Absentee ballots will start getting mailed in about 2 weeks).  Now is the time to become an active part of this extraordinary effort to elect a new Congressional representative, Jessica Morse, State Assembly candidates, Jackie Smith and Carla Neal, and other Democratic candidates running locally in El Dorado County.