EDC Democrats are in Transition
March 26, 2017
Filed under News
Hang on for a minute...we're trying to find some more stories you might like.
Organization, Indivisible, and People Power
February and March were a very active month. The new Central Committee members were meeting with throughout our standing committees. For those who aren't familiar with our function in the County, it is our main focus to develop a strong party, encourage party activism, and use our committees to move policy and positions in our county.
At our election in January, we elected 7 delegates to attend the California Democratic Party (CDP) State Convention. This convention is being held in May. Our new delegates for the convention are: Lori Anzini, Kate Gladstein, Leslie Hill, Tamara Johnston, Sarah Saunders, Daniel Stephenson, Jamie Beutler, and Tucker Zurawski. These people will be representing our County and will be voting for platforms and the candidates who will be the new officers of the State party. Several of these new delegates have already attended the CDP delegate training workshops.
We have a new set of officers,and they are the Executive Board of the Central Committee, Chair – Lori Anzini, Vice Chair -Daniel Stephenson, Secretary – Lee Boylan, and Controller – Garry Cantzler. These members help direct the agenda that the whole body of the Central Committee approves.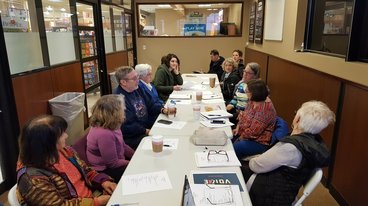 With the growth of the Indivisible Movement and the rallying of the new executive orders, so many of us have been a marches, rallies, and protests. Most of this is targeted to replacing our current Member of Congress, Tom McClintock. Kudos to all people (Democrats, Independents,etc.) who are working side by side to direct energy to sustainable change. Many of us have been participating in Indivisible Groups, People Power (ACLU), Move-On and a multitude of organizations that are engaging and organizing resistance. The success is in mass organization and resistance.