Democrats are Organizing, Marching, and Moving Forward
May 1, 2017
Filed under News
Hang on for a minute...we're trying to find some more stories you might like.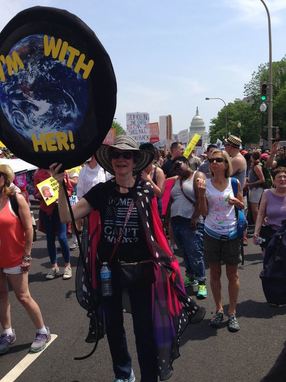 Membership and Organization
The El Dorado County Democratic Central Committee is no fully seated with 26 committee members, and 6 alternate members. That leaves 20 seats for alternates to join us. These committee members represent all 5 County Supervisor Districts. We also have 7 delegates going to the California Democratic Party Convention in Sacramento, being held May 19-21st.
Our newly formed South Lake Tahoe Club has over 100 new Democrats. The reconstituted Democratic Women of El Dorado County is up to over 35 new members and still growing. The United Democrats and the Sierra Foothills Clubs have also witnessed a growth of new memberships.
We are experiencing a resurgence of civic commitment from many who have never been involved before. It's never too late to participate. The Presidential election of Donald Trump has engaged (and enraged) us all out of complacency to true activism. This is good for our progressive causes. The renewed interest on how our Democracy works, including how the Democratic Party operates, requires us as Democrats (and friends of Democrats) to unveil and resurface the true Democratic principles. Here is what we've been doing for the last three months:
Participated in multiple Town halls to engage in a dialogue with Tom McClintock.
Painted rally signs
Small group picketing at McClintock's office, on a weekly basis.
Worked side-by-side with Indivisible, People Power (ACLU), Move-On, and the El Dorado Progressives.
Participated and organized in at least six different marches and rallies from the Sacramento Women's March on January 21, Lake Tahoe Climate Change march, multiple Health Care rallies, March for Science, and the list goes on and on.
Participated and helped with Candidate Development. (Yes, we are interviewing candidates for the 4th Congressional District, and planning "Run for Office" workshops for other offices that will be up in the 2018 election.
Participated and joined with Placer County in most of these efforts.

All of our Democratic Central Committee Standing Committees have been actively working together on our identified projects for this year…building, fund-raising, educating, organizing, and grooming candidates for local positions all the way from Fire Boards, School Boards, Community Service Districts, City Councils, Water Districts… up to California Congressional 4th. We have even identified many commissions and committees that have vacant seats here in El Dorado County. Could you be a participant? Would this excite you? Perhaps this is a way for you to help our community.
SAVE THESE DATES for CANDIDATE DEVELOPMENT!
​
Hosted by the Democratic Women of El Dorado County
Run for Office! Candidate Interest (Meet & Greet)
Tuesday May 23, 6:30-8:00pm
EDCOE Building B
6767 Green Valley Road, Placerville
Have you thought about running for office? Are you interested in hearing from women who have? This is a casual meet-and-greet for anyone who is curious about the possibility of running. Join us to learn about elected positions in El Dorado County and the campaign process, as well hear from current and past local elected officials about their experiences running.
Our planned efforts are fund-raising, voter registration, voter engagement, and candidate development. All of this takes volunteer time, and money. If you have a skill and want to participate, please join us. If you have been there right along, and want to take on a different task, let us know.
We will have guest speaker, Sue Novasel, ED County Supervisor (confirmed) and possibly a few others.
Run for Office!
Candidate Training
Saturday, June 17, 10:00am-12:00pm
2850 Fairlane Ct, Placerville, CA 95667
​
​This training is for anyone who is interested in running for office or who is interested in working for a campaign. It will provide more detail about what it takes to run a campaign, from filing to voter turnout.
If you're considering running for office or supporting someone who is, this training is for you. This is also a great opportunity to network with other potential candidates.